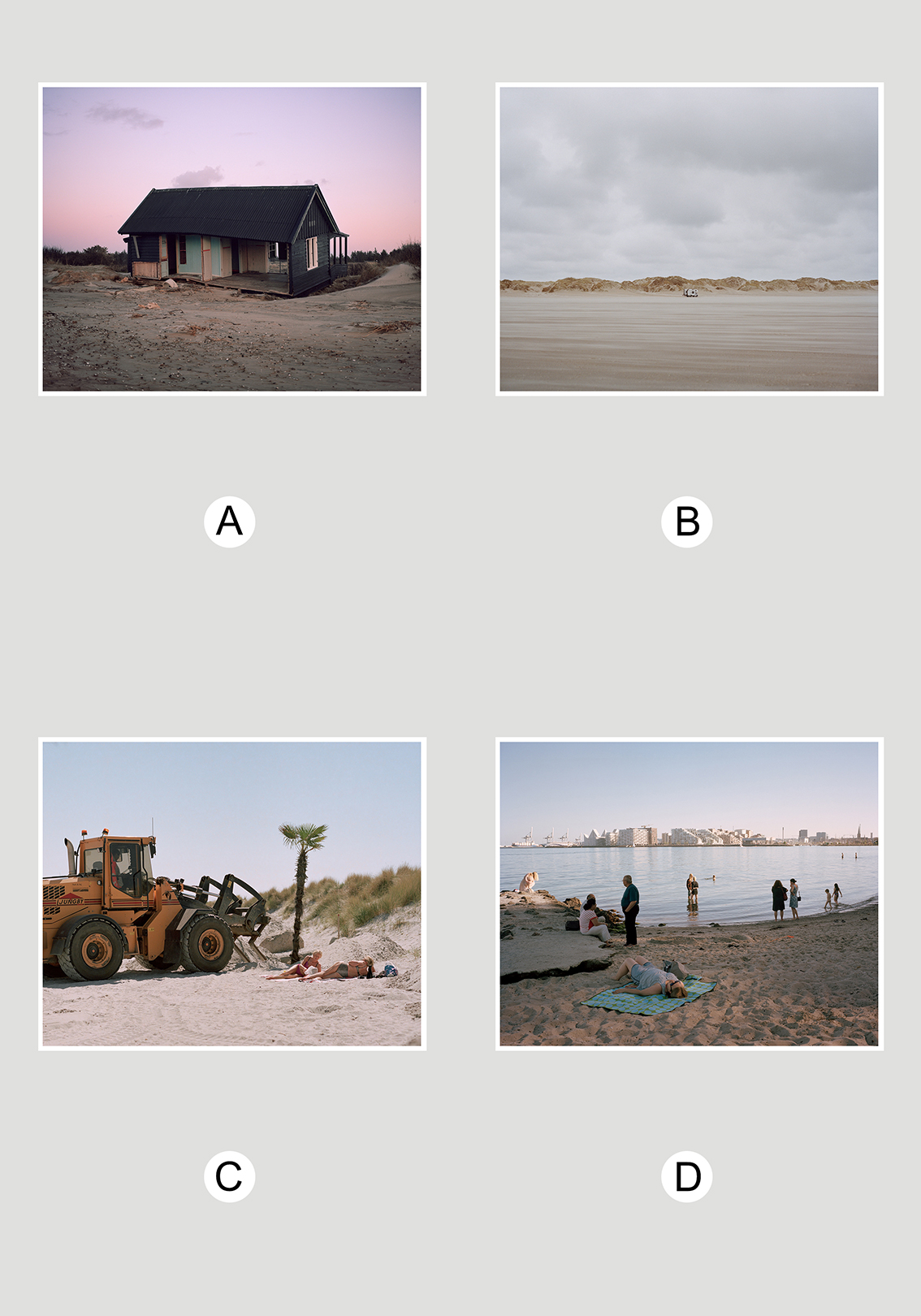 Prints - 500 x 599 mm.
Offset print, size 500 x 599 mm (image size 455 x 569 mm), printed on 200 gr. Artic Volume White paper.
Choose between four different motives (A, B, C, D). Print only, not framed. Shipped in a tube.
Price: 895 DKK // 135 USD // 120 EURO
A // TVERSTED. When the storm Urdhit North Jutland on Boxing Day 2016, the water level rose. The sea reached the old summerhouse `Åklit´, which has been located in the dunes at Tversted since 1934. It was built before the beach protection line was introduced and therefore has always been uniquely close to the sea. A year before Urdhit, the sea had swallowed the dune in front of the house; a dune dubbed 'the guardian' by the owners. When Urdcame, the water tore the house off the ground and carried it down the beach where it now rests, decaying.
B // LAKOLK BEACH. Lakolk Beach is one of Europe's widest and one of few in Denmark where driving is allowed. During the summer, tens of thousands of tourists visit the beach, but each year they have to walk about two meters further to reach the water's edge, as waves and currents constantly redistribute land and sand. The Wadden Sea is one of the most dynamic coastal areas found in Denmark, and on Rømø this means the beaches are constantly growing towards the west.
C // FREDERIKSHAVN. Not far from Denmark's northernmost point you'll find Frederikshavn's Palm Beach. More than 100 Chinese flax trees and date palms from the Canary Islands are put in the sand each spring after wintering in a greenhouse. The people of Frederikshavn initially met the notion of spending money on palm trees with scepticism, but today the trees are an ingrained part of the city's image in Denmark and abroad. Not least after the carrier line Stena Line in Sweden ran an ad saying, "In two hours you could be swimming on an exotic palm beach."
D // RISSKOV. A few years back, Aarhus beach fans had a view of an industrial harbour when swimming at the beach 'The Permanent.' Today their view is that of a new, exclusive neighbourhood 'Aarhus Ø'. The ten largest cities in Denmark are located on the coast, because of the enormous importance historically held by ports. But a hundred years ago, the ports of the cities were exclusively industrial. The water was referred to as dirty, polluted and murky. Today, cranes, containers and shipyards are being replaced by rows of high-rise buildings competing for sea view on the harbour fronts.